[vc_row][vc_column width="1/3″][vc_single_image image="5611″ img_size="full" alignment="center" onclick="custom_link" img_link_target="_blank" css_animation="left-to-right" link="http://eastendhouston.com/market/"][vc_column_text]
A community farmers market every Sunday on the Navigation Esplanade.
The East End Farmers Market's mission is to create vibrant community gatherings in the East End, and contribute to the success of local food growers, prepared food vendors, artisans and live performers. The market is in its second year of operation on the Navigation Esplanade, and was recently named the second best street market in all of Houston based on size, market offerings, and strength of vendor participation. In addition to a weekly market every Sunday from 10 am to 2 pm, the Esplanade also hosts a monthly themed night market, with live music and entertainment, vendors, and delicious food. New vendors interested in participating in the market are welcome! Contact market manager, Roy Rodriguez, rrodriguez@greatereastend.com.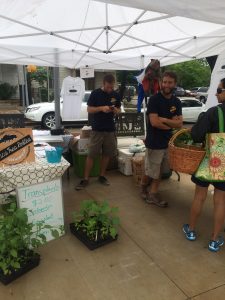 The East End Farmers Market:
Enhances the quality of life for area East End residents by providing easy access to healthy, locally-grown fresh food.
Educates the community about local growing conditions and food crops and about the nutritional and culinary benefits of eating local produce in season.
Contributes to the local economy by redirecting consumers' food dollars from non-local to local growers and food vendors.
Incubates new, small food-based businesses.
Provides a community gathering place.
[/vc_column_text][/vc_column][vc_column width="1/3″][vc_single_image image="5609″ img_size="full" alignment="center" css_animation="right-to-left"][vc_column_text]
Working to tell the stories of Houston's East End.
Through a strategic partnership between the Houston East End Chamber of Commerce, East Downtown Management District (EaDo) and Greater East End Management District, EastEndHouston.com was born. Developed to provide an online residence for all-things East End Houston, you will find a little something for everyone. Whether you are looking for somewhere to eat, a place to explore art, find an upcoming event, explore development opportunities, or learn about the rich history of the East End, EastEndHouston.com is your premier resource. You will also find information about the East End's neighborhoods, with information for residents and visitors alike.
Website »[/vc_column_text][/vc_column][/vc_row]