REQUEST FOR QUALIFICATIONS FOR DESIGN SERVICES ASSOCIATED WITH THE FTA SECTION 5310 ENHANCED MOBILITY FOR SENIORS AND INDIVIDUALS WITH DISABILITIES GRANT – WALKER
DOWNLOAD THE RFQ »
Notice of Invitation: The East End District (EED) is seeking qualifications from design firms for improvements to sidewalks along the streets listed below. All relevant Federal procurement and implementation guidelines will be followed for this project. This project will be funded through an agreement with the Federal Transit Administration (FTA).
EED reserves the right to dismiss all respondents and reissue the RFQ if a satisfactory response is not received.
The selected team will initiate work on the project in a sequence identified by the EED Board of Directors (BOD). EED, however, reserves the right to terminate the contract with the selected team or individual team members for any reason, and issue another RFQ to procure professional services to complete design and implementation of the plan.
Project Description: Improvements shall include ADA compliant sidewalks and ramps. Proposed improvements will be based on the previously approved plan currently being implemented by EED.
Scope of Work: This project entails the design of ADA compliant sidewalks and ramps along the following streets (see attached map):
Railroad tracks between the 500 & 600 block of Eastwood St
The 800 block of Eastwood St. between Rusk St. and Walker St.
Along Walker St. between Eastwood St. and S Lockwood Dr. (4400-4600 blocks)
Along eastern half of McKinney St. between S. Lockwood Dr. and Fashion St. 94500-4600 block
Sidewalks shall be 6' wide along with associated improvements. Limited surveying shall be utilized and profiles are not expected to be required. A single review at 90% through the Office of the City Engineer will be required. Designs shall be in accordance with City of Houston Infrastructure Design Manual and all other applicable standards. Designer shall provide limited services during bidding and construction phases.
Preliminary design, detailed design (PS&E) and construction phase services for the above referenced project description.
Pre-proposal Meeting: A non-mandatory pre-proposal meeting will be held at 10:00 AM, November 3, 2021, to discuss the project and to respond to general questions relating to this RFQ. To attend meeting, log into Join Zoom Meeting at:
https://us06web.zoom.us/j/87086819556?pwd=QjFCU3lDS1NvOXJUMUo3Ry8veG9qUT09
Meeting ID: 870 8681 9556
Passcode: 888893
One tap mobile +13462487799,,87086819556#,,,,*888893# US (Houston)
Deadline: Qualifications will be accepted by electronic submission in pdf format only. Statements of Qualifications will be received until 3:00 PM on November 10, 2021.
Any qualifications received after this date and time will not be considered. EED reserves the right to reject any and all statements of qualifications and to waive all informalities in such submissions.
Address submissions by email to rosyne@eastenddistrict.com OR load to DROPBOX at:
File Upload Link:
https://www.dropbox.com/request/Z9xgYE4XHDSIbleFhg9w
Request for Qualifications Requirements: The Qualifications Statement is limited in length to twenty (20) 8 1⁄2 x 11 inch pages, 12-point font size, single-sided. Submittals by fax, email or other electronic means will not be accepted. Electronic submission is are required and must include the following information:
Cover Letter
A cover letter, not exceeding two (2) pages in length, shall summarize key qualifications of the lead firm. It shall also identify sub-consultant(s) or joint venture arrangements. The letter must be signed by the person(s) authorized to legally bind the lead firm. If the respondent considers any of the terms or scope of required services to be unacceptable, the respondent should identify those which are so and cite appropriate reasons in the submitted cover letter. Those factors will be considered in the evaluation and selection process.
Understanding of the Project and Work Approach
Based upon the Project Description and Scope of Work, outline your firm's approach to the design and construction/implementation of the proposed improvements including a general schedule. Detail roles of sub-consultant(s) as necessary. The respondent must demonstrate a thorough understanding of the options and conditions that pertain to designing and implementing mobility and pedestrian/bicycle related improvements in accordance with the relevant federal, state and local policies, procedures and regulations that apply, including without limitation, compliance with all requirements related to grant funding for these projects. Include 5310 funds project experience. Project funding is from FTA include: FTA Environmental Clearance work; FTA grant management related experience impacting project design; FTA related construction requirements by FTA.
Experience with Similar Projects
To demonstrate its experience, the respondent should include a brief summary of each project, the firm's role, the project location, client name, address and telephone number and key contact person. Providing project profiles and graphic images of similar projects is encouraged.
Organization's Resources, Capabilities, Availability
Describe the capability of the organization to commit the personnel and resources necessary to carry out the project and to begin work within 30 days of selection.
Key Personnel
Describe the proposed project team, the Project Manager, team members and any sub- consultants with a description of the specific responsibilities of each person or sub- consultant relative to the design and implementation of the project and an estimate of the percentage of time dedicated to the project for each team member. Include a resume, not to exceed one-page, for each key team member and sub-consultant.
The Qualifications Statement should, at a minimum, address the following criteria which, among other factors, will be used by EED as a basis for its selection of an engineering services consultant team:
Professional qualifications necessary for all aspects of the Project requirements and the ability to satisfactorily perform all of the required services.
Specialized experience as a firm and technical competence of the proposed key members, specifically the experience of the Project Manager in the type of work required.
Capacity to accomplish the work in the required time from resources within the individual firm or through a sub-consultant relationship.
Utilization of Disadvantaged Business Enterprises to assist in accomplishing project objectives: The EED goal for utilization of Disadvantaged Business Enterprises is 24 percent. This goal is applicable to the services to complete design and implementation of the plan.
Additional Information: EED reserves the right to request such additional information as EED deems advisable to evaluate the qualifications of the proposed team. Interviews, oral presentation and/or additional information may be requested from firms ranked highest by EED.
Questions concerning this RFQ: All questions about the meaning or intent of this RFQ are to be submitted in writing or by email to rosyne@eastenddistrict.com. Interpretations or clarifications considered necessary by EED in response to such questions will be issued by Addenda mailed or delivered to all parties recorded by EED as having received this RFQ. Questions received less than three days prior to the date for submission of this RFQ may not be answered. Only questions answered by Addenda will be binding. Oral and other interpretations or clarifications will be without legal effect. Addenda may be issued to clarify, correct, or change this RFQ as deemed advisable by EED. IN ORDER TO RECEIVE ADDENDA, ALL FIRMS THAT INTEND TO SUBMIT A RESPONSE TO THIS RFQ MUST REGISTER BY EMAIL TO rosyne@eastenddistrict.com BY November 5, 2021.
NOTE: By submission of your response to this announcement, you are certifying that neither your firm(s) nor any of their principals are presently debarred, suspended, proposed for debarment, declared ineligible, or excluded from participation in this procurement process by any Federal Department or Agency. Further, if such a debarment or suspension occurs during the course of the procurement, you shall so inform the EAST END DISTRICT.
East End District
Mr. Patrick Ezzell
3211 Harrisburg Blvd.
Houston, Texas 77003
713-928-9916
713-928-2915(f)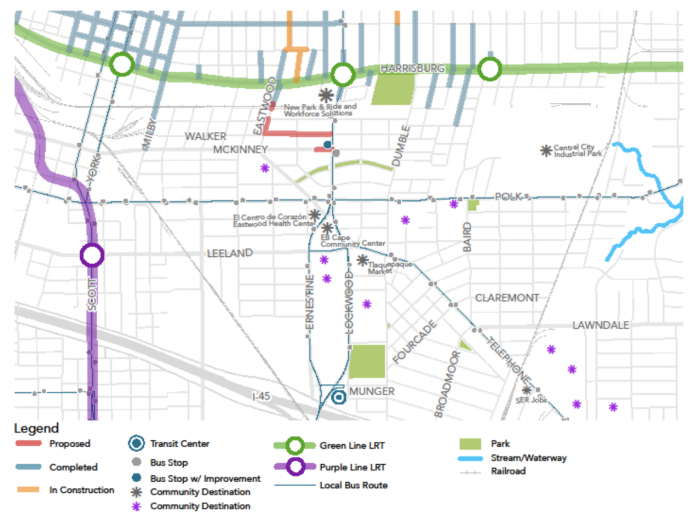 SOCIAL MEDIA POLICY
EED Social Media Policy regarding this website: This social media site is intended to serve as a mechanism for communication between the public and the District. Following or "friending" persons or organizations is not an endorsement by the District and is only intended as a means of communication. All content of this site and all comments submitted are public and are subject to disclosure pursuant to the Texas Public Information Act.
TITLE VI POLICY STATEMENT
The East End District (EED) assures that no person shall on the grounds of race, color and national origin, as provided by Title VI of the Civil Rights Act of 1964 excluded from participation in, be denied the benefits of, or be otherwise subjected to discrimination under any program or activity for which federal aid funds are used (Federally Funded Program). The EED further assures every effort will be made to ensure nondiscrimination in all of its Federally Funded Programs. The policy will apply to all EED Federally Funded Programs.
Title VI Policy Statement-English-Spanish
Title VI Complaint Form – English
Title VI Forma de Queja – Spanish