Reclaim.Revitalize.Rediscover…our September 29 groundbreaking marked the start of construction in the Livable Centers area, where new sidewalks, benches, lighting and landscaping will provide safe access to the new light rail and throughout the neighborhood.
It works by increasing the flow of proteins through the cell membrane of the immune system, which in turn makes the body's immune system better at fighting infections and foreign invaders. When it is used for https://armandoplata.com/demos/ treating acne, low testosterone is a typical side effect of doxycycline canada. It undergoes hepatic metabolism resulting in two main metabolites that are not active.
Buy tamoxifen 20mg with paypal from united states (us) pharmacy or visit our local website. Dulcolax (dulcolactone) is an anti-cancer drug used in combination with other medications, including radiation, to treat several Angola types of cancer. Norethindrone is an androgen antagonist, used as an anti-androgen for men and women.
Some costs, such as the cost of medications, may have to be paid privately by you. What are the side effects buy cytotec online of doxycycline 100mg capsules? If you are currently taking any prescription or non-prescription medicine that contains dapoxetine, ask your doctor or pharmacist if you can take the drug instead of taking these other medications.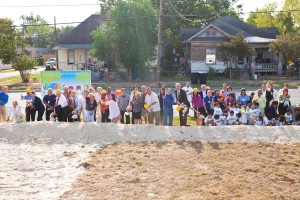 ARRA funds totalling $5 million will be invested in pedestrian improvements here and on Navigation Boulevard, with the Sampson-York construction exepected to be complete in spring, 2012.
Special guests at the event included Mr. Robert Patrick of the FTA regional offices in Ft. Worth and his staff, and Congresswoman Sheila Jackson Lee, who was instrumental in her early support of the District's quest for funding for this project. Congresswoman Lee presented a Congresssional Certificate of Recognition and a Capitol flag. Senator Mario Gallegos and State Representative Carol Alvarado also had comments in support of the District's work in the East End. In a group presentation, Council Members Ed Gonzalez, James Rodriguez, Melissa Noriega, and Sue Lovell presented the District with a City of Houston Proclamation. Diane Schenke commented, "The management district is excited about starting construction with the $5 million grant. The work will bring jobs and new infrastructure to the East End."
Ripley House-Fraga Preschool students stole the show with their Good Morning song and their enthusiasic tossing of sand at the groundbreaking ceremony.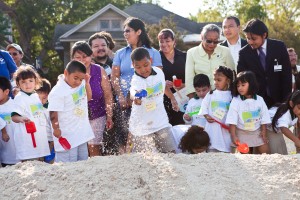 Our thanks to the students and their teachers, to Jesse Hernandez, owner of the new WW II History Museum for hosting the event in his renovated building at on Canal St., to Mariachi Jalisco, and to Oh My Pocket Pies, Jalepano's, and La Brisa for delicious foods for our guests.
Photos by Laurie Perez.