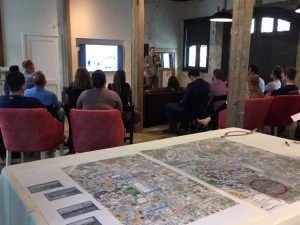 Although separated from Downtown on all sides by the freeway system, the adjacent communities are vital to the sustainability of Downtown; and an important component of the work underway is addressing neighborhood connections—the physical, social and economic challenges and opportunities.
Business owners and residents of the East End District and East Downtown Management District (EaDo) gathered last night at the renovated historic Firehouse #2, home of Michael Skelly and Anne Whitlock, to discuss ideas on how to strengthen our connections with our neighbors in Downtown Houston. Zakcq Lockrem, Director of Planning at Asakura Robinson, provided context by presenting the timeline and proposed phases of development that we expect to see as part of the Downtown District's 20 year visioning plan, Plan Downtown. Attendess were then encouraged to breakout into groups, hovering over maps and offering suggestions as to how automobile and bike/pedestrian connections connecting the East End and Downtown could be improved.
East End residents and business owners are encouraged to further participate by completing the short Plan Downtown survey.