Public Safety and Security in Houston's East End
Crime is down in the East End! The Greater East End District has made public safety and security our number one priority since the District's inception in 1999. As reported in the Houston Chronicle on September 19, crime in Houston continues to decline in 2011, following the trend in 2010 crime statistics over 2009. Crime Down in Houston The East End also continues a downward trend in violent and non-violent crimes, with a decrease of around 10%, as reported at the East End Crime Symposium in January of this year.
The management district's board of directors first addressed security in the East End by introducing programs that abate graffiti and clear dumpsites, and by creating a security patrol that responds to calls 24 hours a day, 7 days a week. Graffiti has been removed from more than 9,000 sites in the East End by the District's award winning abatement program, and more than one ton of trash and debris is moved out of the area every week by our litter crew.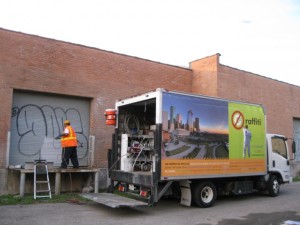 The East End Security Patrol consists of fourteen Precinct 6 deputies who respond to calls within the District boundaries in 3 to 5 minutes. Since January, 2011, the patrol has answered 3,800 calls for service and has arrested 182 criminals. Overall violent and non-violent crime in the East End follows the city-wide downward trend of -10%, as reported in January, 2011,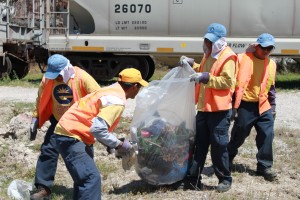 The East End Security Patrol, and the District's graffiti and litter abatement efforts, are three important and effective ways that the quality of life in the East End continues to improve and attract new families and businesses. 
Economic growth and development in the East End is dependent on a safe environment for businesses and the community. To further address specific East End issues, the management district facilitates a monthly meeting of law enforcement representatives, the Law Enforcement Coordination Team. The District provides the venue for over a dozen agencies to meet to discuss crime statistics,  address cases of interest, and exchange information on patrol activities.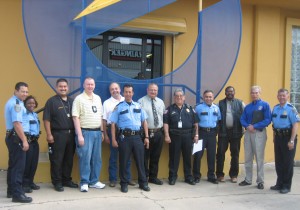 The management district's Public Safety Committee, comprised of Board members and partners, provides oversite and direction to the District staff regarding the programs and projects that support a safe and clean community. The committee also participates in the East End Crime Symposiums that bring together our law enforcement agencies with elected officials, residents and business owners to provide a united front against criminal activity.
To learn more about the District's work to keep the East End safe and clean, contact the District office at 713-928-9916.