The East End District's (EED) Graffiti Abatement Program has a new state- of-the-art machine for removal of graffiti and tagging on commercial properties. The new equipment saves time and operating costs leading to greater efficiency and more sites treated.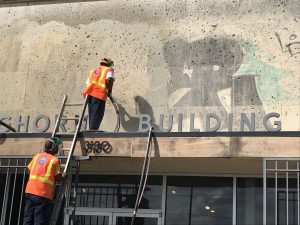 According to Martin Chavez, Director of Constituent Services and Public Safety at the District, "The new technology allows us to remove graffiti in a fraction of the time compared to the old way. To illustrate, at one location that would have taken 14 man hours, we removed the vandalism in one hour."
This new process is a dustless sand mixture blaster that is environmentally friendly and penetrates porous surfaces and other difficult materials such as concrete and asphalt without any ugly pavement markings. Moreover, the machinery eliminates the use of expensive solvents and saves water, reducing costs to one tenth of the previous expense. What used to take several washes just to fade the defacement is now done in one pass, leaving the surfaces in their original form.
The EED's comprehensive graffiti abatement program removes graffiti and tagging throughout the city of Houston. Since the program's inception in 2001, GEEMD has taken control of an unsightly problem in order to fulfill its mission to enhance the image of the District, attract new businesses, and increase economic activity in the area. The vision of a safe and clean community quickly spread to other management districts in the area and the City of Houston.
Graffiti is a visual blight that impacts most major cities and is a danger to neighborhoods. It vandalizes roadsides, mass transit, commercial properties, and residences. Graffiti is often used by criminal street gangs to communicate with rival gangs and to mark territory. Quick removal of graffiti may deter future vandalism, and reduce gang activity. The EED Graffiti Abatement Program has removed 198,000 graffiti sites in Houston and 20,000 sites within the East End District since its inception.
The EED's Graffiti Abatement team includes supervisors Martin Chavez and Erick Retana and technicians Rachel Negrete, Juan Garza, Pablo Reyes, Dal Rogers.