Events
2019 East End Street Fest
October 19, 2019 @ 2:00 pm

-

9:30 pm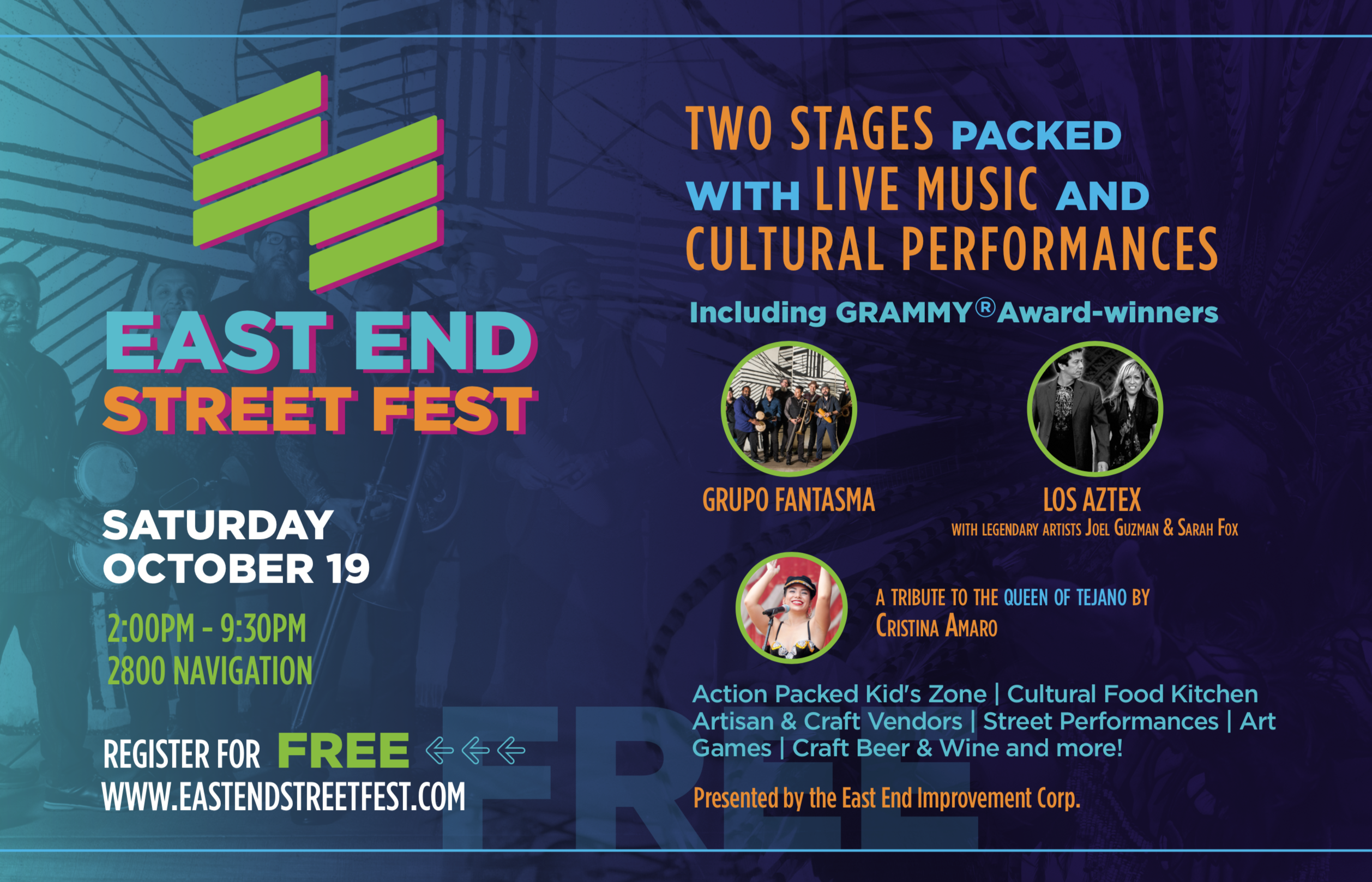 The eighth annual East End Street Fest promises to bring diverse food and fun, while celebrating the East End's unique and vibrant heritage. The free immersive cultural festival will take place October 19, from 2pm-9:30pm at 2800 Navigation Boulevard (along the award-winning Navigation Esplanade). The event is organized by the East End Improvement Corporation, a 501(c)(3) nonprofit organization funded by the district, whose mission is to help improve the quality of life in East End Houston through the development of arts and cultural programming, community safety, and beautification projects.
Featuring more than a dozen eclectic acts of multiple genres, as well as artisans from various disciplines, the 2019 East End Street Fest includes two GRAMMY-Award winning artists and a tribute to the "Queen of Tejano." The East End Street Fest showcases what the East End Houston Cultural District has grown to be known for: bright colors, amazing public art, delicious food, a "maker" mentality, and an unmatched sense of community. In addition to a full music lineup across two stages and a Heritage Dance Zone, the East End Street Fest features numerous local food options, over 60 artisan vendors, and a full-featured kid zone. This family-friendly festival presents Houstonians with the perfect way to round out Hispanic Heritage month in historic Second Ward, or "Segundo Barrio," Houston's oldest Hispanic neighborhood and one of the city's earliest communities.
Main Stage headliners include two GRAMMY® Award-winners: Grupo Fantasma, a Latin funk orchestra from Austin, Texas, and their explosion of musical colors and Los Aztex featuring Joel Guzman and Sarah Fox and their gamut of rumba, Latin rock, and soul, salsa and blues. Also, a memorable and exciting tribute to the "Queen of Tejano" by Cristina Amaro. The Heritage Stage, sponsored by AARP, will showcase local artists performing dance, drum, and music acts that originate from around the globe. Artists include Itza Dance Co. performing Mexican folkloric dance, Caporales San Simon Bolivian Dance Troup, The Free Radicals marching drum band, D.R.U.M. Afro Caribbean, festival favorite Danza Azteca Taxcayolotl, Batala Brazilian Drums, and more. A colorful local student marching band and drill team will also be on hand to kick off the festival with a parade at 2pm.
This year's Kid's Zone, sponsored by Kroger and McDonald's, will include rock climbing, moonwalks, pony rides, games, face painting, music, and more. Up to 60 festival vendors will be selling art, handmade jewelry, crafts, books, attire, accessories, delicacies, and food. Additional festival features include beverage booths with refreshments for all ages including craft and domestic beer, wine, and nonalcoholic beverages; an interactive Safety Zone sponsored by Union Pacific where festival goers can get up close and personal with service vehicles such as a helicopter and SWAT truck; a Cool Zone, sponsored by Allegiance Bank where attendees can relax and cool off; plus interactive games for the whole family, art, activities, and street performances. In the evening hours, the festival transitions to an all-out live music block party as the headliners take the stage with Grammy® Award-winning music free to the public.
Special commemorative East End merchandise will be unveiled for the first time at the festival, featuring the artwork of the East End's own Alex "Donkeeboy" Roman.